Summertime…and the gifting is easy!
From spring onwards, we start to hope that the sunshine will arrive, and wow have our prayers been answered! We hope you are enjoying the benefits of the glorious weather we are seeing here in sunny Sligo and indeed all over the island of Ireland. Our solar panels which we installed last year in keeping with our ongoing policy of reducing our environmental impact, are being utilised to the full.
It's wonderful to see an influx of visitors to the area to experience all that the Northwest of Ireland has to offer, and we are thoroughly enjoying seeing familiar faces returning to us again and again from overseas. It's a good time to mention we offer worldwide shipping so don't forget us when you return home!
Whilst we have been busy front of house, the work never stops behind the scenes. Our own Martina Hamilton aside from designing and handcrafting jewellery for which The Cat & the Moon is the home of, also has a new exhibition titled 'Treescapes' which opened on 3rd June and runs until 24th June so do stop by and take a look. Located at the Hamilton Gallery on the 1st floor above The Cat & The Moon, its free to visit and is open Monday to Saturday 10am until 5pm.
Lights, camera, Action! We'll keep you posted on this but we've also had the absolute joy of filming for two separate projects which are due out later this year… stay tuned!
Next up Father's Day. Sunday 18th June is a time to celebrate the heroes in our lives and show our love and appreciation for all they do for us. We have a page set up on our site here https://www.thecatandthemoon.ie/category/fathers-day/1 with our top picks for gifts to mark the occasion.
Very recently we had the pleasure of visiting Bord Bia Bloom which is said to be one of the most sustainably operated large scale events to be held in Ireland. Whilst there, we were able to say hello to many of our existing fellow artists and suppliers and to take in the new offerings from new faces. As we move through the seasons you will see new products appearing not only instore, but also online and our social media channels. Talking of social media if you are not already following us, please do or you may miss out on new artists joining us, new jewellery designs and competitions!

For now, take a look at some of the gift's choices we feel will truly bring summer into your homes and lives this season.
Spring is in the air
Can you believe its spring already? Here at The Cat & The Moon, we have been looking forward to the new season and you will see this reflected in our pick of the artists featured here.
Always on the lookout for new Irish artists, at this time of year, we don't like to miss out, so we revisit our existing suppliers to view the wonderful new additions they have in there range. Having visited showcase back in January, we also saw a wealth of Irish talent new and old, and will be adding some of those to our ever expanding range of Irish made, artisan arts and crafts this year so keep a look out.
March is always busy for us with International Women's Day, St Patricks Day and Mother's Day all in the same month and then swiftly followed by Easter. With a wide range of wonderful Irish designed and crafted gifts from jewellery made in house with our own Martina Hamilton Jewellery Collections, to framed prints and ceramics work, to handblown glass vases and flowers.
But for now, look at the artists below who we hope will put a spring in your step for the coming season…
---
Sharlene Kemple – Daffodils
A talented ceramicist in her own right, Sharlene takes inspiration for her work from the wild and beautiful coastline and landscape of her home county. One of the most popular and cheery signs of spring, the daffodil symbolises rebirth and new beginnings. Three framed size options available in this contemporary framed gift made by a local artist of County Sligo.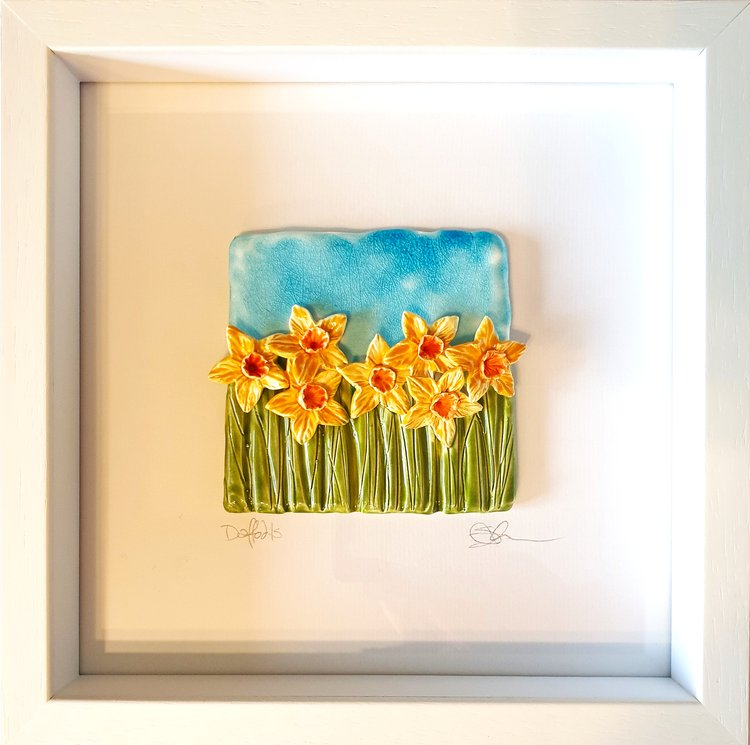 ---
Martina Hamilton - Snowdrop
Although fragile, the snowdrop is one of the first flowers to bloom each year, heralding the Spring. Ever so gently, it fills our woodlands and hedgerows with a pure and hopeful energy. A special and humbly powerful little flower. This pendant captures in silver the gentle arch of the flower head, and its delicate petals. A gift for the one who brings light and hope to you, or maybe one who needs a touch of this special energy.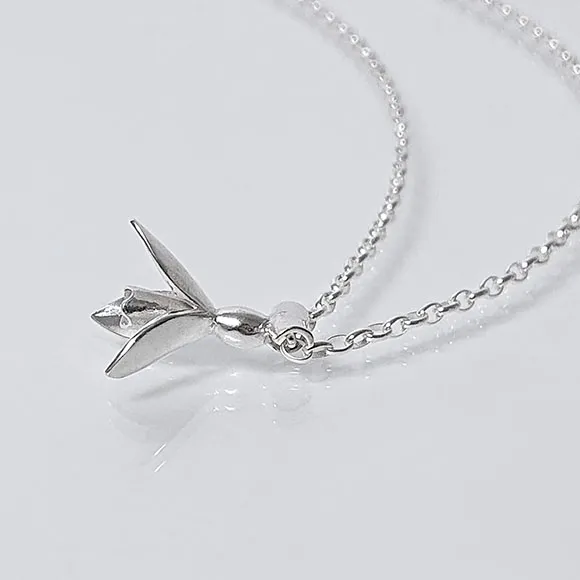 ---
Vera Gaffney
Limited edition art prints by Vera Gaffney. Inspired by the Irish landscapes, from the wild hedgerows to the mountains and the hillsides of her home. Super Moon Blooms, a great gift idea for a new home, a wedding, engagement or to even mark the super moon in early April.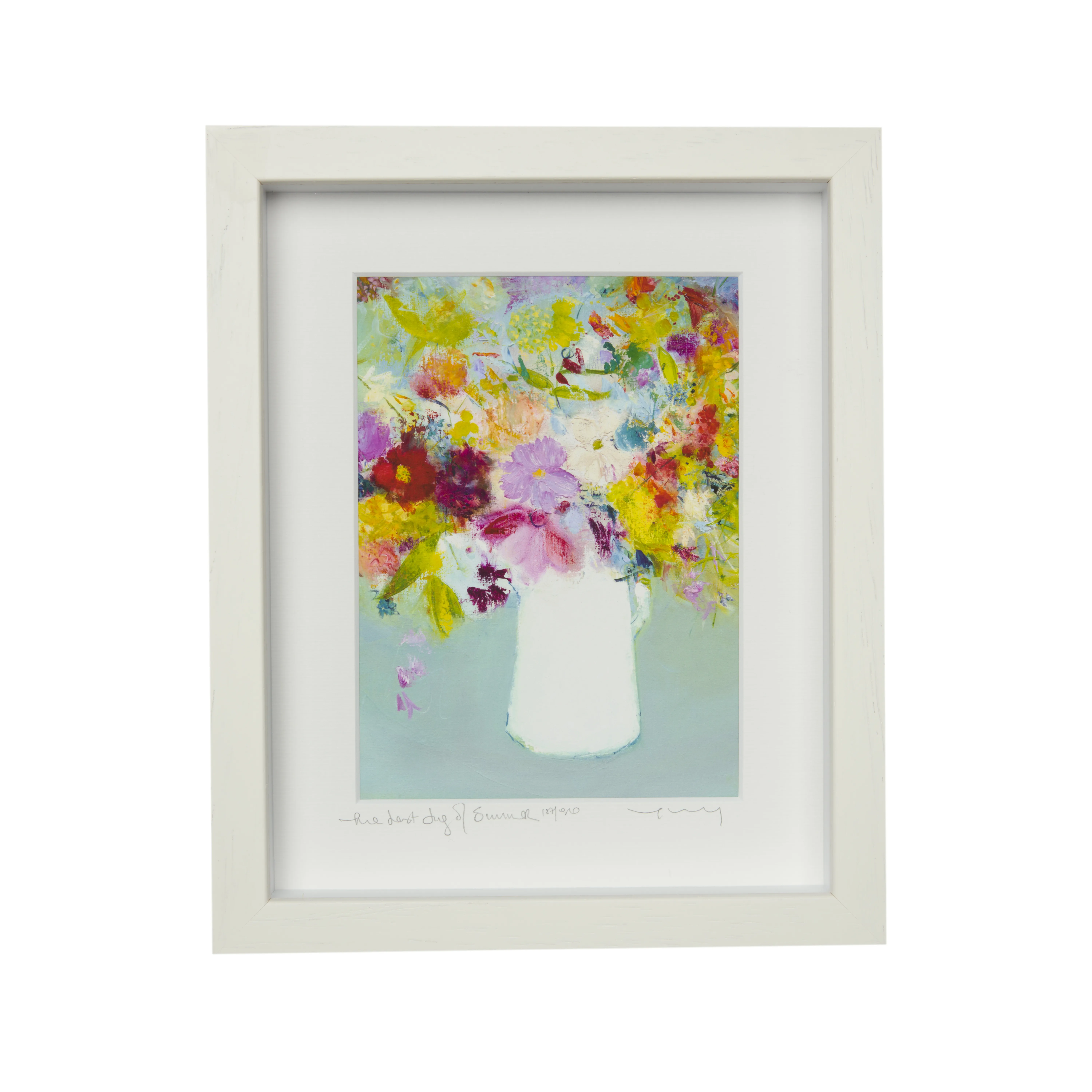 ---
Kings Forge
These individually fused glass hanging vases are the creative work from the delightful Artist Grace Brennan of King's forge Designs. Designed to hold fresh or dried flowers, this pocket of glass can also be hung on a wall or window as a decorative piece. Perfect for Mother's day!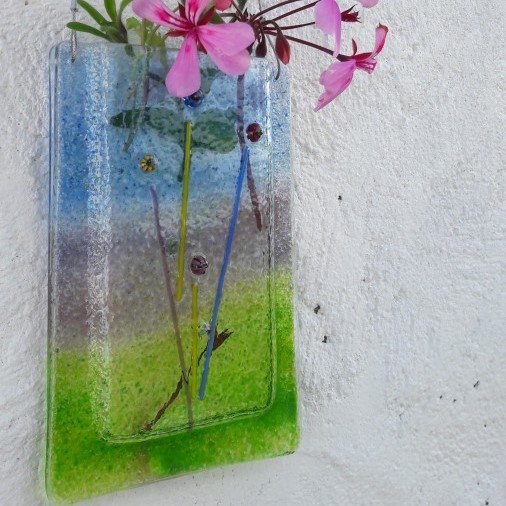 ---
Recent News
Its all systems go here at The Cat & The Moon! We have been busy doing what we love best and that's sourcing Irish artisan crafts from Irish designers all over the beautiful island of Ireland.
In addition, our own in house award winning Jewellery designer Martina Hamilton has been designing and creating new jewellery designs, so keep your eyes peeled for new gifts coming online and instore very soon.
For now though…take a look at just some of the new products and designers we have had the pleasure of showcasing this year..
Fab cow – A long-standing favourite at The Cat & The Moon, so much so, we are always looking to add to the range 'Inspired by Ireland' from Dublin artist Francis Leavey. This year and not alone, we have added 'Bloom', we think its simply stunning.
Rowena Sheen – County Clare. Unique wooden jewellery created using native, sustainably sourced Irish materials, to handcraft these contemporary wooden jewellery designs, finished with beeswax polish created from Burren wildflowers.
Anita Reynolds – Based in County Meath, Anita is a ceramic and textiles artist inspired by her love of nature, Anita has created in stoneware ceramics The Birdhouse. If you love spending quality time outdoors you will truly appreciate these bright and beautifully textured creations which make a wonderful gift for garden and bird lovers alike!